Douglas MacArthur High School Class of 1969
San Antonio, Texas
In Memory
Joan Tower (Hart)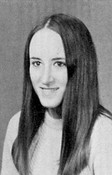 Joan Tower Hart passed away on March 30, 2008 in Houston, Texas. Here is her obituary:
Joan Gloria Hart, "Joani", beloved grandmother, mother, daughter, sister and most of all a friend, lost her courageous battle to cancer on Sunday, March 30, 2008. She was born on March 4, 1951 in San Antonio, Texas.
She is survived by her daughter and son in law, Krista and Robert Benavides of Houston, Texas. Joani leaves behind two beautiful grandchildren Emma and Vince. She is also survived by her mother Claire Tower of San Antonio, Texas; her uncle, Albert Cardinal of San Antonio, Texas; her brother and sister-in law, Joseph and Jolene Tower and their two daughters Kathryn and Jessica of Denver, Colorado. Joani was a devoted compassionate grandma who dedicated her time to coloring, making crafts, cooking and most of all just being a wonderful grandma, with a smile.
She retired from SBC in December of 2002. She enjoyed spending valued time with all her dear friends from SBC and was blessed with all the wonderful friendships she made in her years there. After retiring she enjoyed traveling to Mexico and spent time appreciating the simple pleasures of family and friends. Her kindness, creativity, tender warm heart, and wonderful sense of humor will greatly be missed. A Memorial Service is planned for family and friends at Seaside Funeral Home Chapel, 4357 Ocean Drive, Corpus Christi, TX 78412, on Saturday, April 5, 2008 at 12:00pm. For those desiring, donations in the name of Joan Hart may be made to Houston Hospice, 1905 Holcombe Blvd., Houston, TX 77030.