Douglas MacArthur High School Class of 1969
San Antonio, Texas
In Memory
Chester Slimp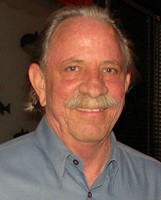 Chester Arthur Slimp III, born in San Antonio Texas on July 9, 1951, passed away on the morning of February 4, 2015 in his home, with his wife and son at his side.
He is preceded in death by his father, Chester A. Slimp Jr., and his mother, Ellen Naylor. He is survived by his loving wife, Cynthia; his son, Chester IV; his sister, Ellen Sinclair; and his brother, Andrew Brownlow Slimp II.
Chester graduated from MacArthur High School, San Antonio, Texas in 1969 and received a Bachelor of Architecture from the University of Texas at Austin in 1977. In his professional career, he worked for several firms--the City of San Antonio and most notably, Alamo Architects. He had a life-long passion for music and cars. As a drummer, he played for various San Antonio and Austin bands, most notably the Grim Reapers (dates active, 1960-1970). Known by his his bandmates and friends as the "Flam-Master", he is the self-proclaimed "King of the San Antonio Slop Rock Drumming Style". Chester could sing with soul and was always the life of a party.
His family would like to specially thank Alamo Architects for all of its support; Gladys Gonzalez and Dr. Laura Houston for their kindness and care; and Bob and Carolyn Thronson for their love and spiritual guidance during Chester's illness. Graveside services will be held just south of San Antonio in Adkins, Texas, at Kicaster Cemetery (FM 3432 and CR 324), on February 15, 2015 at 3 p.m. His family requests that in lieu of flowers, please make a donation, in Chester's memory, to the charity of your choice. To leave a message for the family, please visit www.vaughanfuneralhome.com. Arrangements entrusted to Vaughan's Funeral Home of Boerne.