Douglas MacArthur High School Class of 1969
San Antonio, Texas
In Memory
Lynne Lewis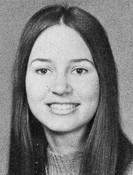 Lynne Poole Lewis died February 13, 2019, at the Methodist Hospital, Medical Center, San Antonio, Texas. Lynne died after a short illness following the sudden onset of epileptic seizures in the brain, cause unknown.
Lynne was born on July 24, 1951 to Polly Poole Lewis and H. Wilson Lewis, San Antonio, Texas. Lynne was the granddaughter of Armstrong and Eloise Poole of Cotulla, Texas, and of Hardy W. and Dula Lewis, of the H. W. Lewis Equipment Company of San Antonio and the H. W. Lewis Ranch, Leakey, Texas. She was the niece of Eunice D. Lewis, San Antonio and Hogue Poole, rancher, Cotulla, Texas.
Lynne graduated from Douglas MacArthur High School in 1969, and later trained in physical therapy and art. She married Wynn A. Buck in 1976 in her Aunt Eunice's beautifully landscaped back yard. They had no children. For years, Lynne used her artistic gifts to produce a great many beautiful paintings and drawings.
Lynne was challenged for many years by a debilitating mental condition, and was a resident of the River City Care Center, San Antonio, for many years.
Lynne will be remembered by her family and friends for her kindness and determination, and for her artistic gifts. She was a major entity at the care residence, involving herself in discussion groups and helping with decorations for festive events. She will be missed.
Lynne is survived by her brothers, Hogue W. Lewis and Hardy C. Lewis, also an artist, and their families, nephews and nieces Hardy W. Lewis, Shannon Lewis Sullivan, J. Reed Lewis, Serenity Lewis-Lockhart, Lemuel Lewis, and Levi Lewis, as well as by many grandnieces and grandnephews.
A memorial service will be held at 2:00 p.m. on Saturday, March 9 at St. Chad's Anglican Church, 11919 Orsinger Lane, San Antonio, Texas 78230, phone (210) 641-6107.
Lynne's will be buried at San Fernando Cemetery III, Old Section at Roselawn in the H.W. Lewis family plot.