Douglas MacArthur High School Class of 1969
San Antonio, Texas
In Memory
Sandy Clopton (Johnson-Potter)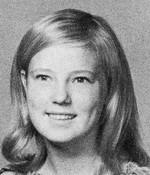 Sandy Clopton Johnson-Potter passed away on July 9, 1992 in Dallas, Texas. Here is her obituary:
Services for Dr. Sandra Johnson-Potter, a Dallas veterinarian, will be at 6 p.m. Wednesday at Crane-Weiland Chapel in Dallas.

She died at the age of 42 of respiratory dysfunctions Thursday at Doctors Hospital in Dallas.

Dr. Johnson-Potter was born in Fukodo, Japan. She graduated from Bryan Adams High School in Dallas, then did undergraduate work at Texas A&I University in Kingsville and received her veterinary medicine degree from Texas A&M University.

Dr. Johnson-Potter was a member of the Dallas County Veterinary Association and was invited to be a diplomat for the American Veterinary Medical Association. She was also a member of the World Wildlife Fund.

Survivors include her husband, William Bert Potter Jr. of Dallas; mother, Vera Friedrich Cherry of Cedar Creek; and sisters, Cheryl Napper of Longview and Karen Shirsty of Dallas.

The family will receive friends from 1 to 4 p.m. Wednesday at Crane-Weiland Funeral Home.

Memorials may be sent in Dr. Johnson-Potter's name to the Society for the Prevention of Cruelty to Animals, 362 S. Industrial Blvd., Dallas, Texas 75207. Family members also suggest planting a tree in her name.
Published 7/12/92 in the Dallas Morning News

Date of Death: 7/9/92