Douglas MacArthur High School Class of 1969
San Antonio, Texas
In Memory
Cindy Jureczi (Clements) VIEW PROFILE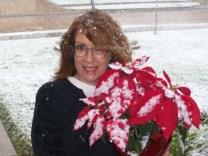 In Memory of Cynthia Rose Clements (Guest Member)
February 13, 1952 - March 6, 2017
Visitation: Friday, March 10, 2017 | 5:00 p.m. - 8:00 p.m., Sunset Funeral Home, 1701 Austin Highway, San Antonio, Texas 78218
Funeral Service: Saturday, March 11, 2017 | 9:00 a.m., Sunset Funeral Home Chapel, 1701 Austin Highway, San Antonio, Texas 78218
Committal Service: Saturday, March 11, 2017 | 10:00 a.m., Sunset Memorial Park, 1701 Austin Highway, San Antonio, Texas 78218
Cynthia Rose Clements, age 65, passed away March 6, 2017 in Houston, TX. She was born on February 13, 1952 in San Antonio, TX to Howard & Ruby Jureczki. She was a loving wife, mother, grandmother and friend who will be dearly missed.
She was preceded in death by her parents, Howard and Ruby Jureczki and her brother Howard Lee Jureczki. She is survived by her husband, Lewis Clements, sons Chris Clements and wife Alba, Collin Clements and wife Michele, and Brandon Clements and wife Marisol. She also leaves behind her grandchildren, Michael Clements, and Sara, Anthony, Max, Mia, and Makai Clements. Her grand dogs Ned, Baron, and Jazz will miss her. She left behind numerous other family members and friends who will miss her greatly.
Cindy loved her family and friends. She was strong of spirit and wit. She was vivacious and enjoyed shopping for a bargain. Her life was filled with chocolate and desserts, laughter, family, and the Spurs. She loved to garden, play with her grandchildren, and find new recipes for the family to try. She shared a love of travel with her husband, Lewis. They enjoyed visiting Las Vegas to gamble and visit the buffets. Cindy led a full life and lived every day to the fullest.
Visitation will be 5-8 p.m, Friday, March 10, 2017 at Sunset Funeral Home. The Funeral Service will be 9 a.m., Saturday, March 11, 2017 at Sunset Funeral Home Chapel. Interment will follow at Sunset Memorial Park.
Click here to see Cindy's last Profile entry.