Douglas MacArthur High School Class of 1969
San Antonio, Texas
In Memory
Janet Koehler (Krolak)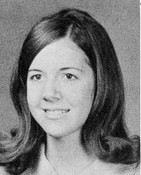 Janet Koehler Krolak passed away June 7, 1997. Here is her obituary:
Funeral services for Janet Elaine Krolak, 46, of Snellville, Georgia, sister of Ken Koehler of La Grange, were held Tuesday, June 10 in Grace Fellowship Church in Stone Mountain, Georgia. The Rev. Buddy Hoffman officiated. Private burial services were held.
Mrs. Krolak was born Sept. 13, 1950 in Van Nuys, California, the daughter of Ed and Lea (Michalk) Koehler. She received a bachelor's degree and a master's degree from A&M University. She was united in marriage with John Krolak Feb. 12, 1983 in Houston. She was a homemaker and was a member of Grace Fellowship Church.
Surviving are her husband, John Krolak of Snellville; her father and mother, Ed and Lea Koehler of San Antonio; two daughters, Julia Elizabeth Krolak and Joy Eileen Krolak, both of Snellville; one sister, Gayle Westmoreland of Marshall; and one brother, Ken Koehler of La Grange.
published June 20, 1997 in the Fayette County Record
obituary courtesy of Jane Cook Baldridge