Douglas MacArthur High School Class of 1969
San Antonio, Texas
In Memory
Jim Boldt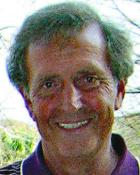 James Allan Boldt (October 10, 1951 -January 7, 2014)
Allan passed away peacefully in his sleep in the early morning hours of January 7th, unable to win his battle with cancer. Allan was a loving son, brother, uncle and godfather, and a caring and loyal friend to many. He will be greatly missed.
As the youngest son of Alvin and Dorothy Boldt, Allan grew up surrounded by extensive family and friends in the German heritage community of San Antonio. He graduated from Douglas MacArthur High School and St Phillips Academy in San Antonio. After an early career in automotive work, Allan later became a general contractor in the construction industry. His third career, all too short-lived, was as a community volunteer and spokesman for what he viewed as the "little guy" in Southeast San Antonio.
Although he remained a life-long bachelor, Allan was a dedicated family man, especially to his three nieces, grand nieces and nephew, and his two goddaughters. Allan was also an important care-giver to his father, Alvin Boldt, prior to Alvin's passing in October of 2013.
Allan's two primary avocations were bowling and auto racing, particularly drag racing. He shared his love of bowling with his father, Alvin, and became very proficient, carrying an average of more than 200 for a period of time. He was a long time member of Highland Social Club where he pursued his bowling interests. His true loves were cars and drag racing. Many of Allan's friendships were built around racing, and he often said that many of his happiest moments were at the track and in gatherings of his racing friends.
Allan was predeceased by his mother and father, Dorothy and Alvin Boldt. He is survived by his brother, Bob L. Boldt and wife Paula; nieces Brittany Boldt Burnett (Joseph), Lindsay Boldt and April Boldt; grand nephew and nieces Jack, Tess and Clara Rose Burnett. He will also be greatly missed by his two goddaughters Jessica Snow and Erma Griffith, as well as by many extended family members and friends.
In keeping with his wishes, the family is planning a celebration of Allan's life to be held in the Spring. Allan also asked that any memorial donations be mailed to the San Antonio Public Library Foundation, 625 Shook Avenue, San Antonio, 78212, identified in Allan's name for the benefit of the District Two Branch Library.