Douglas MacArthur High School Class of 1969
San Antonio, Texas
In Memory
Steve Beck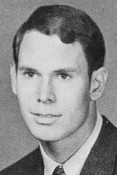 Steve Beck passed away on March 11, 1978 as a result of heart failure while playing a game of basketball, which he loved dearly. Here is his obituary:
Mr. Stephen Vernon Beck, age 26, of San Antonio, died Saturday, March 11, 1978. He was a member of Wayside Chapel. Survivors; wife, Mrs. Linda Beck; parents, Mr. and Mrs. Donald G. Beck, Sr.; brothers, Donald G. Beck, Jr., Philip Beck, all of San Antonio; sisters, Miss Elizabeth Beck, St. Joseph, Missouri, Miss Kathryn Beck, San Antonio. Memorial services Tuesday evening at 7:30 at Wayside Chapel, the Rev. Stephen Troxel officiating. Those who desire, may send memorial gifts to Wayside Chapel Expansion Fund. Interment in Sunset Memorial Park.
A big thank you to Roger Barnes for finding this obituary.