Douglas MacArthur High School Class of 1969
San Antonio, Texas
In Memory
Randy Merkin VIEW PROFILE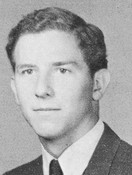 Randy Lee Merkin, age 65, passed away on Friday, February 24th, 2017. Randy's gregarious and fun-loving personality touched the lives of many people. He loved his family, his grandchildren, his deer, fishing and working on the ranch. Everyone that knew him knows that he loved others unconditionally, and never asked anyone to change. He was always authentic. He loved bringing a smile to his loved ones' faces. He accepted everyone for who they were. He was an incredible shot with lightning fast hands, an aggressive baseball catcher as a youngster, an avid hunter, a fisherman, a good golfer, and a best friend to many. Randy was born on March 20, 1951, in San Antonio, TX. He was known by many in the commercial construction community where he worked for many years. He spent the last 15 years of his life living in Wimberley and working at King Feed and Hardware.
He was preceded in death by his father whom he dearly loved, Bryan Merkin, Jr. and his mother, Ellen Paschal Merkin. He is survived by his wife of nearly 45 years, Carol Sue Merkin; his four children, Heather Carol Merkin; Mindy Sue and husband Todd Warner; Timothy Bryan Merkin and wife Stacy; and Seth Benjamin Merkin and wife Andrea. He also is survived by his brother, Larry Bryan Merkin, and sister, Pam Merkin Toifl. He leaves 11 grandchildren that affectionately knew him as "Papa": Annabelle and Kelsi Pence; Ellie, Halie and Clayton Warner; Libby, Cece, William, and Millie Merkin; and Halle and Kate Merkin.
A memorial service will be held at 3 pm at the Wimberley VFW Hall, 401 Jacobs Well Road, Wimberley, TX 78676 on Sunday, March 5th, 2017 followed by a reception. Randy loved children and hunting and had a heart to share that passion with others, so to honor him and in lieu of flowers, please make a donation to Buckmasters American Deer Foundation's Disabled Hunters Services (buckmasters.com/Resources/disabled-hunters/memorial-donations). Please mail donations on behalf of Randy Merkin to BADF Memorial Donations, 10540 Daystar Drive, Tuscaloosa, AL 35405.
Click here to see Randy's last Profile entry.