Douglas MacArthur High School Class of 1969
San Antonio, Texas
In Memory
Joe Graham VIEW PROFILE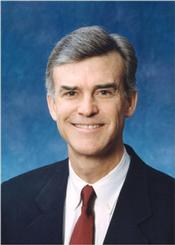 Joseph Mark Graham
(Died March 4, 2012)
On March 4, 2012, Dr. Joseph Mark Graham, age 61, passed away after a nearly two year battle with cancer. Joe was a loving husband, devoted father and grandfather, surgeon, rancher, student of history, and servant of God, country, his family and the Joplin community. He lived life to the fullest and brought joy to those who were around him. Joseph Graham was born in Fort Worth, Texas on November 25, 1950. He spent most of his youth in San Antonio, Texas where he met and married his high school sweetheart, Cynthia Green Graham. He attended Texas A&M University where he earned a degree in Zoology before going on to medical school at Baylor College of Medicine. Following medical school, he trained under Dr. Michael DeBakey in general, vascular and thoracic surgical residency programs. After completing his residency training, he served as an associate professor at Baylor in Houston, Texas. In 1982, he moved to Joplin, Missouri where he joined Dr. Mitch Stinnett in Joplin's first heart and vascular surgical group at St. John's Regional Medical Center. Joe served the Joplin community for almost 30 years, with his group being nationally recognized as one of the country's top practices for heart surgery. Upon moving to Missouri, Joe fulfilled his dream of owning a ranch and established Mi Tierra Ranch, where he proudly raised registered Texas Longhorns, gaining national recognition for quality of cattle raised and shown. Joe was also an active member of First Baptist Church of Joplin.
He is survived by his wife of 38 years, Cynthia; his children, Dr. and Mrs. Jose De Hoyos (daughter Leah) of Joplin;1LT Cameron Graham, US Army, Tacoma, WA; Dr. and Dr. J. Mark Graham, Jr. (son and wife Tatiana), and two grandchildren, Joseph Mark Graham III and Annabella Marie Graham of Harrisburg, PA. He is also survived by his mother, Mrs. Joseph B. Graham, Jr. (Jean); Dr. and Mrs. Jim Benedict (sister Jenice) of Harwood, TX; his mother-in-law, Mrs. Hubert Green (Leah), and numerous nieces and nephews.
Visitation will be held at Parker Mortuary on Wednesday, March 7 from 5-7pm. A memorial service will be held at First Baptist Church of Joplin on Thursday, March 8 at 1pm. Memorial contributions can be made to the First Baptist Church Building Fund, 633 S. Pearl, Joplin, MO 64801, or to LifeChoices, P.O. Box 1536, Joplin, MO 64802.
The family sends special thanks to the staff of the Heart and Vascular Care office and caring people of St. John's Mercy Hospice.
Click here to see JOE's last Profile entry.