Douglas MacArthur High School Class of 1969
San Antonio, Texas
In Memory
Sherie Scrutchin (Warminski)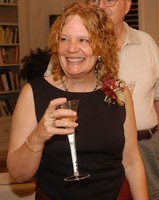 We received the following message from Butch Gerfers concerning Sherie Scrutchin, a Guest Member of our class website:
"I received word this morning from Alicea Fletcher that Sherie Scrutchin (Jackson) passed away. The information below is from Sherie's son, B. J. Warminski. I don't have any contact information for Sherie's family but Alicea will pass on expressions of sympathy to the family.
Butch
I have sad news. My mother passed away this past Tuesday (Jauary 9, 2018). I wanted to share some information here about the service in case you would like to attend and we haven't yet been in touch.
It will be this upcoming Monday, January 15th, 2018 at 2:30 pm at the Celestial Funeral Home in Pasadena, TX (1922 Strawberry Ln). Richard is inviting friends and family over to their house beforehand for lunch. There will be a burial later in the week near New Braunfels, but the details have not been finalized. If you would like to join us prior to the service or at the burial, please send me a message and I'll share the details when they become available.